A Review of the RX100 III, or Why I Bought the RX100m3 Twice
An $800 point shoot camera sounds kind of crazy, but hear me out. I have put a lot of thought into buying the Sony RX100m3. Read on, and watch the video if you are so inclined, to find out if it might make sense for you too.
I used to go on vacation and carry two DSLR's with me for the duration (so I wouldn't have to switch lenses as often). While I did capture a lot of great photographs I felt like I missed out on part of the experience of being there. My view of the world was solely through the lens. That's why when when I traveled to Europe for the first time last year I decided not to bring my bulky Nikon. I bought a GoPro and took that instead. It had no screen, and I didn't hook it up to my phone. I still got some really great pictures and I feel like I was able to be a lot more in the moment. That being said, I do regret not having some higher quality photos. I recently decided to sell of all of my camera kit (lenses, strobe, the works) in order to downsize to something that could fit in my pocket. My hope is that since I'll be able to have it with me more often than I did with my SLR setup I will end up taking more photos.
There still doesn't seem to be any real competition to this camera, and everyone has gushed over it along with the previous versions. It seemed like a no brainer to go ahead and buy the RX100m3. If you want technical details DPReview has you covered. I won't be going into all that. I will however share some of my thoughts on it, along with why my first RX100m3 had to be replaced. You can see it in the video below.
No One Notices you
I took it to a family event where a someone else was shooting some pictures with a Sony A7. Everyone noticed they were getting there picture taken when that thing was out. Meanwhile, I shot Kodak Brownie style, holding the camera at my waist with the screen flipped up. I was able to take so many candid photos. The Sony RX100m3 handled the dim indoor with aplomb. Sure, the full frame A7 with a nice fast prime attached did a lot better, but it got a lot less candid photos. It also ended up sitting on the sidelines most of the time while I was able to keep mine in my jacket pocket ready and waiting to snap a few quick photos.
Some Concerns
Even the cheapest DSLRs seem pretty sturdy and durable. The Sony RX100m3 is tiny and has a lot of moving parts. The first unit I received had a defective lens cap. It would only open halfway after only a few uses. That's how I was able to take the photos in this post with a second RX100 III. I shot the defective one with the replacement just before sending it back. Between the electronic viewfinder taht has to be pulled up and out with each use, the popup flash, the lens, lenscap, and the fancy flipping LCD screen there are a lot of moving parts on this camera. Thankfully, it comes with a 1 year warranty.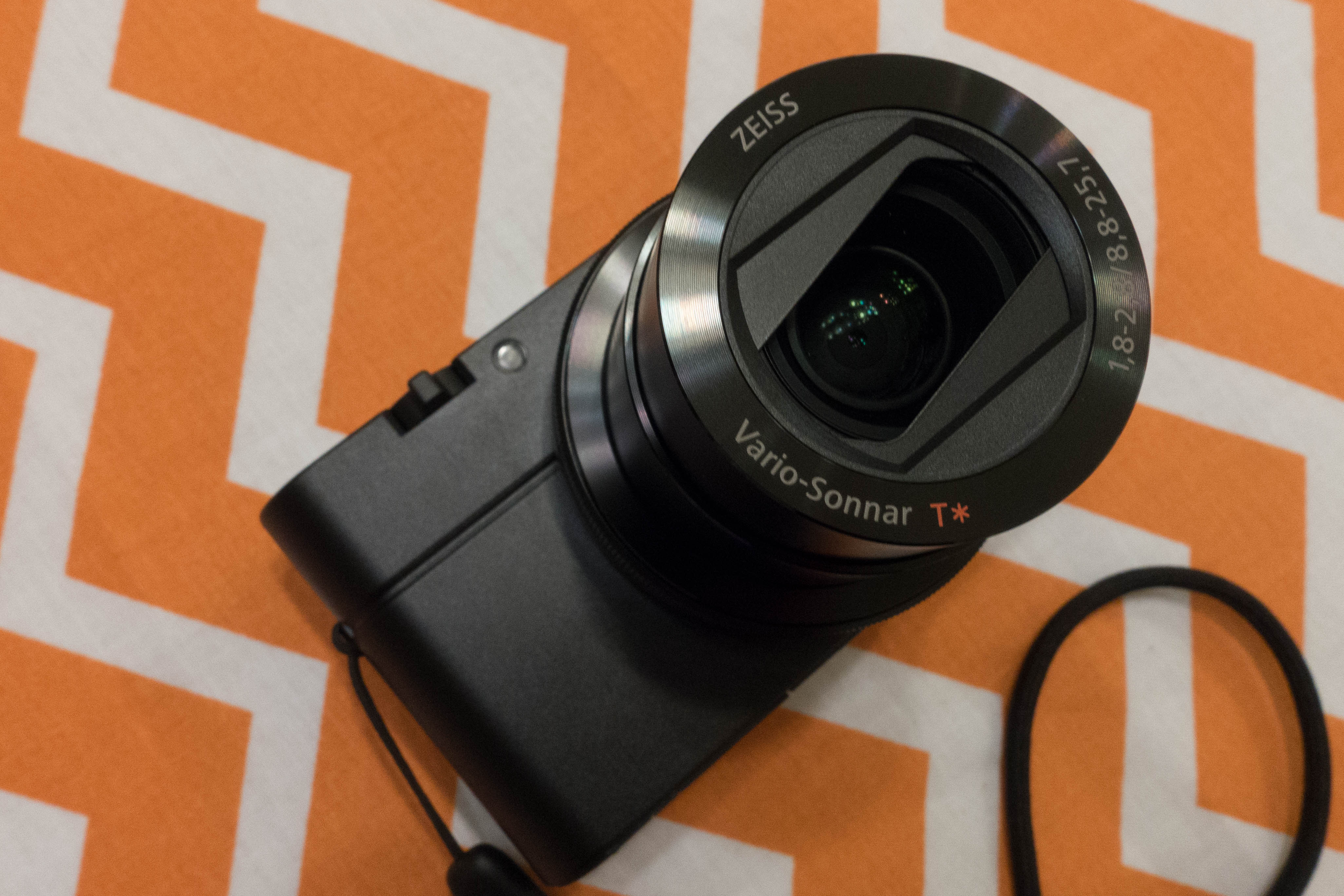 Things to love about it
Pivoting LCD which can be flipped up to aid in taking selfies or shooting from the hip.
Popup electronic viewfinder
Bouncable popup flash. It's more powerful than what comes builtin to most DSLRs. You'll won't to turn it down a bit, even if you are just using it to bounce.
Excellent fast lens 24-70mm 1.8-2.8
Pocketable size and shape
Full manual, aperature priority, and shutter priority modes
What's not so great
First unit I bought had a defective lens cap that would only open half way
Lots of moving parts outside of the camera mean lots of potential for things to break
No way to plug in an external mic. Look at the $650 RX100m2 if you need this.
At $800, the RX100m3 is a bit pricy for a point and shoot
comments powered by

Disqus