Books Like Hitchhiker's Guide to the Galaxy
I distinctly remember the first time that I read Hitchhiker's Guide to the Galaxy. Douglas Adams' writing style was so unlike anything I had ever read before. After devouring the rest of the five part trilogy and reading his other works I began searching for anything similar in style and humor. It took me a while, but I think I've a couple books that fit the bill.
First Contact: Or, It's Later Than You Think by Evan Mandery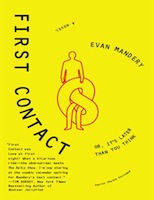 Combine humor and style of Douglas Adams, Kurt Vonnegut, Woody Allen, and Monty Python and you've got this book. Aliens make contact with Earth and the President of the United States, who happens to be not entirely unlike George W. Bush, manages to bungle things quite a bit. In the process, forever changing the life of his attaché. Go ahead and pick up a copy. Remember, it's later than you think.
In the bestselling and rightfully cult-inspiring tradition of Kurt Vonnegut and Douglas Adams comes First Contact—an hysterically funny satire about Presidential politics and intergalactic misunderstanding. This smart and biting novel by Evan Mandery—an author equally well-versed in the lives of the U.S. presidents, existential philosophy, and the Simpsons—offers much food for intellectual thought along with an all-you-can-eat buffet of laughs, as it chronicles the first close encounters between earthlings and a vastly superior extraterrestrial race from Rigel-Rigel. As the subtitle of First Contact so presciently informs us, "It's Later than You Think."
First Contact: Or, It's Later Than You Think by Evan Mandery
The Sheriff of Yrnameer by Michael Rubens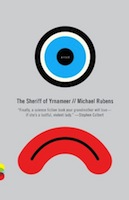 There's a reviewer on Goodreads that described this book as "a giant one man show where every character is played by Zaphod Beeblebrox", and I think that sums The Sheriff of Yrnameer up nicely. This one starts out a bit slow, but bear with it and you'll be reading with a smile on your face. You'll like this book if you enjoyed reading Zaphod Plays it Safe, and you were sad when Firefly cancelled.
In the spirit of Douglas Adams and Terry Pratchett, The Sheriff of Yrnameer is sci-fi comedy at its best—mordant, raucously funny, and a thrilling page-turner. Meet Cole: hapless space rogue and part-time smuggler. His sidekick just stole his girlfriend. The galaxy's most hideous and feared bounty hunter wants to lay eggs in his brain. And the luxury space yacht Cole just hijacked turns out to be filled with interstellar do-gooders, one especially loathsome stowaway, and a cargo of freeze-dried orphans. Cole gathers a misfit crew for a desperate journey to the far reaches of the galaxy: the mysterious world of Yrnameer, the very last of the "your-name-heres"—planets without corporate sponsors. But little does Cole suspect that this legendary utopia is home to a band of outlaws bent on destroying the planet's tiny, peaceful community.
The Sheriff of Yrnameer by Michael Rubens
---
If you know any other books in the same vein as Hitchhiker's Guide to the Galaxy please let me know about them in the comments.
comments powered by

Disqus